The glories of Bidenomics is on fully display. Despite what Lyin' Biden says, Bidenomics is only working for the elites (top 1%). How Soviet/CCP command economy of him!
Here is an ugly chart showing Bidenomics in action! We all know that Covid unleashed a torrent of Fed monetary stimulus AND Federal spending on Covid relief and green energy subsidies (most to large Democrats donors). BUT we now have experienced 3 consectutive quarters of negative gross domestic income (GDI) growth. And nominal GDI growth is falling with falling M2 Money growth.
And today's jobs report for August showed that only 187k jobs were added.
Superficially this would have meant an unchanged print from last month when the BLS also reported 187K jobs, however in keeping with recent trends that number was revised – drumroll – lower again, to 157K, meaning that every single monthly payrolls print in 20-23 has been revised lower (see chart below), a 12-sigma probability and virtually impossible unless there was political pressure to massage the data higher initially and then revise it lower when nobody is looking. (As if the mainstream media is at all honest!)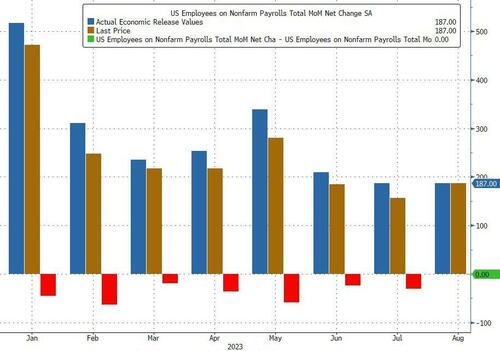 But wait there's more: while July was revised down by 30K from +187,000 to +157,000, June was revised even more, by 80,000, from +185,000 to +105,000, which means that a number that was originally reported as 209K has been reivsed 50% lower, to 105K and a collapse vs original expectations of 230K. Here, the BLS was proud to report that "with these revisions, employment in June and July combined is 110,000 lower than previously reported."
And we have The Conference Board's confidence index at -65. Yikes!
Finally, we have the 10Y-3M UST spread SCREAMING recession!
So, the economy is slowing under Bidenomics and Cadavar Joe.
Will Cadavar Joe actually go out on the campaign trail and debate ANY Democrat or Republican?? Remember, this is the man with the nuclear launch codes.
Views: 23